Why Hello Saxophone is different!
You can learn to play the saxophone!

Get the BEST PRACTICAL saxophone video lessons on-line! I will show you learning the saxophone is easy and fun! Join my Holiday season Saxophone challenge! Get my Xmas saxophone pack! And you WILL be playing some very nice tunes for your family and friends this Holiday season!

Start now with my: SUMMER Saxophone pack!
Join my FREE warm-up course and:
Get the full 25 min video: The 10 things that hold back beginning saxophone players and how to avoid them! 
Learn the number 1 secret to learning to play the saxophone fast!
Learn how to assemble your sax, How to finger every note and every scale, How to blow correctly.
Build a super effective 10 minute warm-up routine that will help you build a big sexy saxophone sound fast!
Download my signature finger-chart for Alto and Tenor saxophone! (fingering every note explained in detail)
Watch my 20 minute tone improvement workshop for beginners!
Regular FREE saxophone tips and tricks, history and culture in your email!
Get big discounts! Join my SUMMER

SAXOPHONE PACK!

Fly through the basics and get yourself to the band-playing level in time for this summer!
You can learn to play the saxophone! And it can be easy and fun! From having never played the saxophone learn: playing in bands, with DJ's and sitting-in at sessions in just a few months!
…"Florians teaching style is unique, he doesn't miss a beat and empowers his students with the right key insights"… 

Exploring with Jazz Giants Christian Scott & Teus Nobel
With your support we've developed the loveliest saxophone in the world!
Join Florian's monthly Jamsession in the North Sea Jazz Club in Amsterdam
Florian coaching young entrepreneurs in Sri lanka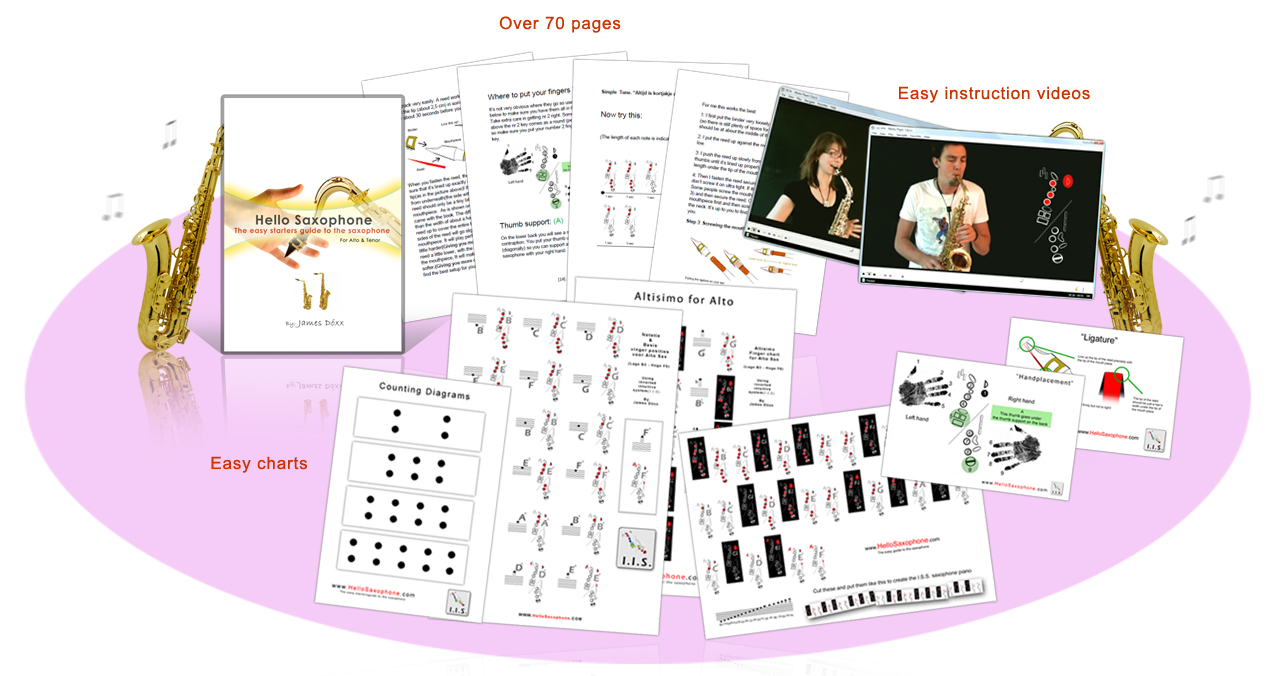 Working with Hello saxophone, you will quickly learn:
# How to assemble your saxophone.
# How to tune your saxophone and mouthpiece perfectly.
# How to hold and play your saxophone comfortably.
# How to cultivate an excellent embouchure.
# How to shave at least half the time off your learning curve by making sure you have the right tools!
# How to build a strong breath support. (How to gain the needed air power quickly).
# How to cultivate and sustain a solid and brilliant tone.
# How to finger and play every note on the saxophone.
# How to gain finger fluency and speed quickly.
# How to learn any melody by ear.
# How to make your very high and very low notes sound brilliant.
# How to recognise all intervals with your ears (The interval secret).
# The basics of improvisation.
# How to develop a personal sound on the saxophone over time.
# You will learn to play famous songs like: Mercy Mercy Mercy, Saint Thomas,The Mo better bluesand others.
# You will learn the basics of music reading and writing (Everything you need to play in a band).
# You will learn the basics of music theory (Everything you need to be able to improvise).
# You will comfortably avoid the many pitfalls and mistakes that can make learning to play the saxophone very time-consuming and frustrating.