You can teach yourself to play the saxophone! And it can be easy and fun!
Over 350.000 beginners have learned to play the saxophone using Hello Saxophone.
You can learn to play the saxophone too! Trust me it's the hobby of a life-time! And not only is it great fun, it will connect you to your friends, family and probably to a great amount of new friends in a fantastic new way! So sign in now and get this new part of your life started today!

In my FREE memberzone you will learn:
The 10 things that hold back beginning saxophone players and how to avoid them! (You will learn AT LEAST 3 times faster!)
The number 1 secret to learning the saxophone fast!
How to assemble your sax, How to finger every note and every scale, How to blow correctly.
A super effective 10 minute warm-up routine that will help you build a big sexy saxophone sound fast!
Download my signature fingerchart for Alto and Tenor saxophone! (Every note exaplained in detail)
Regular FREE saxophone tips and tricks, history and culture in your mail!

Get big discounts! The XMAS prep pack is out now! The perfect set of materials to get you ready to play some amazing holiday tunes for your family and friends this December.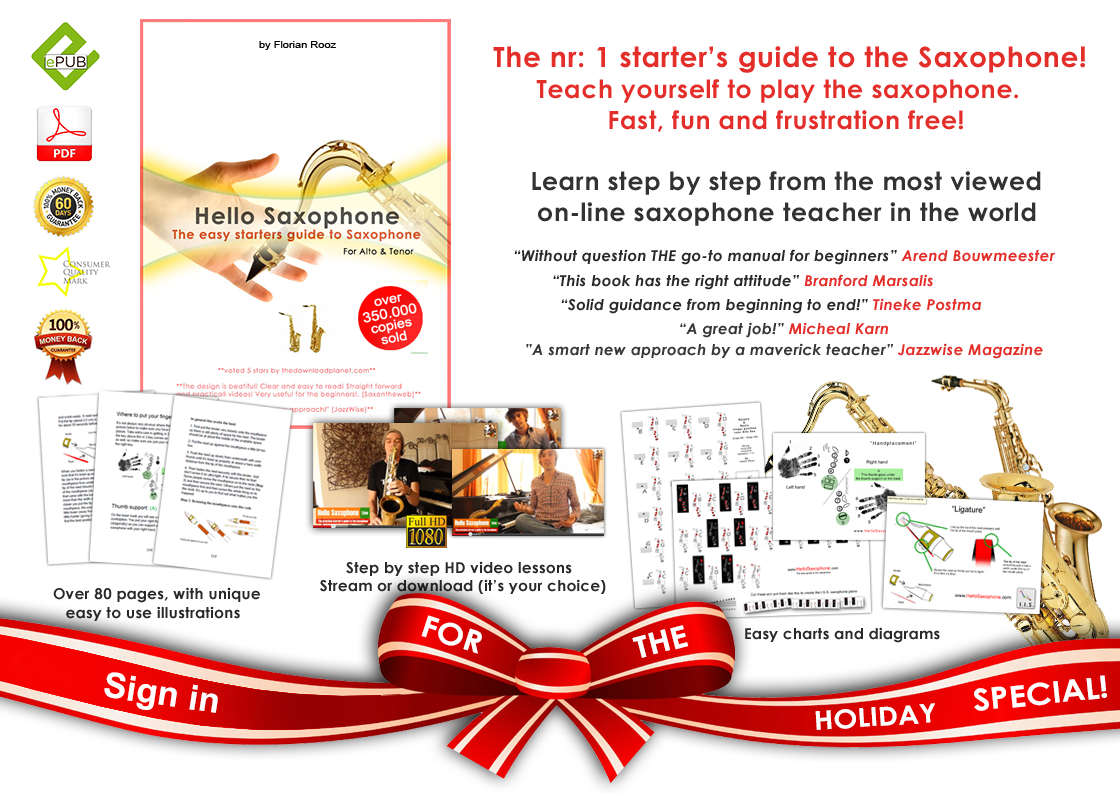 From beginner to expert with a proven series!
Learn to play the saxophone. No missing steps! No confusion!
Save lot's of time and money by learning basic saxophone repair and maintenance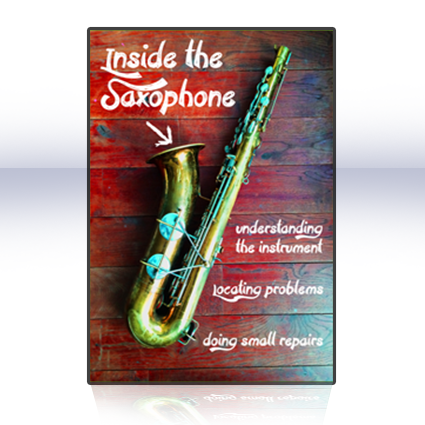 Learn with a celebrated saxophone teacher, musician & artist coach.

Exploring with Jazz Giants Christian Scott & Teus Nobel
With your support we've developed the loveliest saxophone in the world!
Join Florian's monthly Jamsession in the North Sea Jazz Club in Amsterdam
Florian coaching young entrepreneurs in Sri lanka
Hello Saxophone is fast-paced and will give you the exact practical information you need in the straightforward way you want! Before you know it you'll be playing the songs you love together with your friends. Regardless of what style of music you wish to play. Thousands of beginners from around the world have succesfully thaught themselves to play the saxophone using our practical, step by step video lessons and E-book.
You don't need to be able to read notes to use this guide. You will learn everything you need along the way. Whether your aim is to: play in a band, sit in at local jam sessions, play for/with your family and friends or just by yourself at home. Using the guide, it's easy instruction videos and carefully designed visuals you'll keep your learning process fast, fun and frustration free! The way it should be!
And trust me: Playing an instrument will change your life! It's a whole new way of connecting to your friends and family and also a path to making lots of new friends and express your creativity!


Get instant access to the exact practical knowledge and skills you need! Hello saxophone has been called "The most valuable lesson pack for beginning on the saxophone!"
# Written especially for: smart, self directed adults!
# Fast-paced modern style of video teaching + eBook! (no stuffy DVD videos from 1967)
# Work through the basics in just a few days and start expanding your skills quickly!
# Huge amount of content and great price! Hello Saxophone is easily 6 months worth of valuable practice materials and exercises, and the complete course is yours for less than the price of a single regular lesson with a teacher!
# Enjoy the unique benefits of learning from the nr 1# on-line saxophone teacher in the world! Florian Rooz's (Dutch) down to earth and practical style of teaching will give you not only the tools, but also the mindset to achieve great results quickly!
Enjoy this free sample saxophone lesson and begin playing the saxophone:
You will learn:
# How to assemble your saxophone.
# How to tune your saxophone and mouthpiece perfectly.
# How to hold and play your saxophone comfortably.
# How to cultivate an excellent embouchure on the saxophone.
# How to shave at least half the time off your learning curve by making sure you have the right tools!
# How to build a strong breath support for saxophone. (How to gain the needed air power quickly).
# How to cultivate and sustain a solid and brilliant tone.
# How to finger and play every note on the saxophone.
# How to gain finger fluency and speed quickly on the saxophone.
# How to learn any melody by ear.
# How to make your very high and very low notes sound brilliant.
# How to recognise all intervals with your ears (The interval secret).
# The basics of improvisation.
# How to develop a personal sound on the saxophone over time.
# You will learn to play famous songs like: Mercy Mercy Mercy, Saint Thomas,The Mo better bluesand others.
# You will learn the basics of music reading and writing (Everything you need to play in a band).
# You will learn the basics of music theory (Everything you need to be able to improvise).
# You will comfortably avoid the many pitfalls and mistakes that can make learning to play the saxophone very time-consuming and frustrating.
In edition to all the above Hello Saxophone also includes a large set of unique: finger charts, in-depth diagrams and video lessons designed to help you understand the saxophone quickly and thoroughly:
1: The basic notes chart: The correct finger positions for every note on the saxophone in Florian's exclusive, easy to use visual format.
2: Ligature overview:Showing you every important detail about configuring your mouthpiece perfectly.
3: Counting diagrams: These special cards will help you get familiar with tempo in music, helping you develop the ability to play with others in a band.
4: The saxophone piano: All the notes on the saxophone laid out side by side like on a piano. It's the ultimate chart for those who want to understand the saxophone deeply in order to start improvising. Great to put up on your your wall for a while as a reference while you're learning.
5: Alto to Tenor transposing chart: Translate any piece of music from alto to tenor or vice versa.
6: Altissimo chart: A special finger chart displaying how to play the most difficult notes on the instrument.
7: In-dept video instructions on all the key pieces of knowledge and skills you need to learn.
+ Our team supports all our students via email. If you have any questions, you can simply email us and you'll usualy get an in-depth answer back within 24 hours!
+ No waiting for the mailman! You will download the complete set directly to your computer and start playing right away!
+ You'll get access to our monthly PREMIUM newsletter containing interviews with great players from around the world + Free video masterclasses and articles containing the best tips and tricks for playing the saxophone!.
+ All the included books and extra materials are printable from both PC & Mac or can be read on your I-pad or E-reader device (You can download as: PDF, E-pub or both). All included videos can be watched streaming from the members page or you can download them to your own device.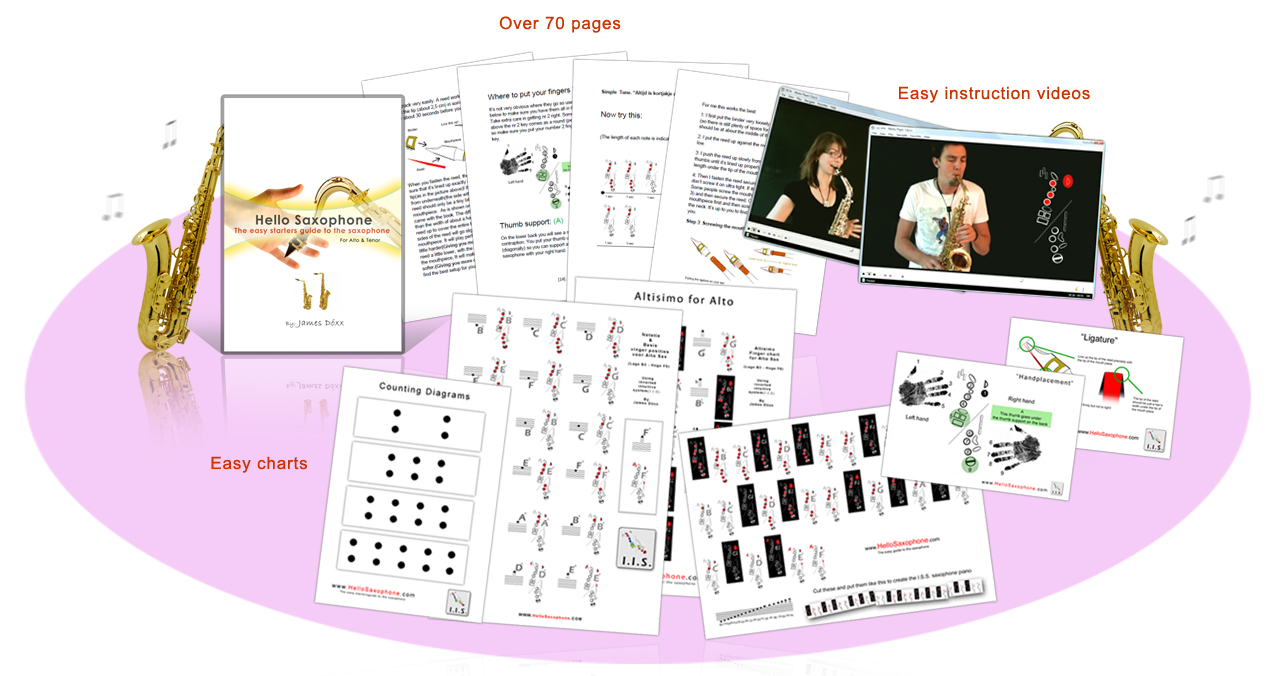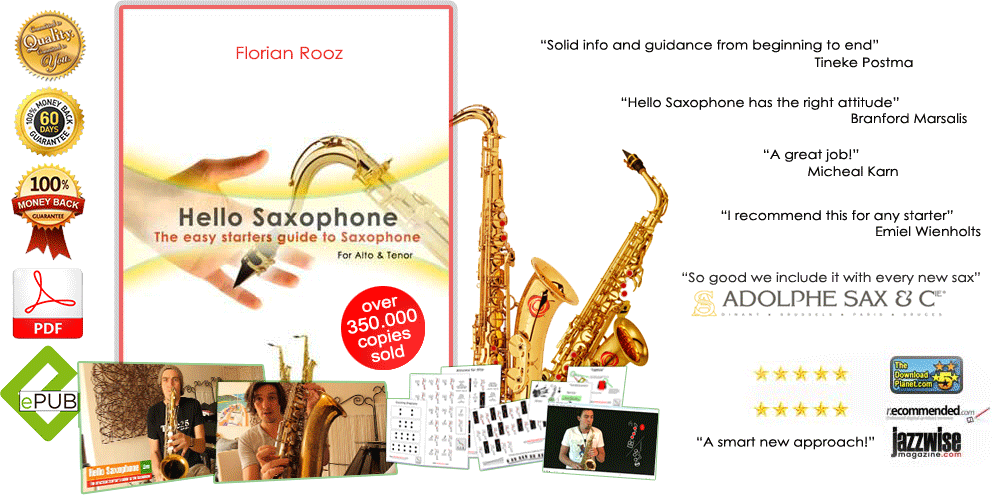 (After your payment you will be forwarded directly to our secure download page (PDF or E-pub download options)
*60 days full refund guarantee!* (This product is also suited for the I-pad)
Hello Saxophone is a quality E-book and comes with a 60 days "full refund" guarantee. So you can try and experience the guide for 60 days completely risk free! If you are not a 100% satisfied you can simply send an email to cancel@hellosaxophone.com. Just include your name and: "cancel" and we will give you a full refund within 24 hours. No questions asked! For general questions contact support at Info@hellosaxophone.com. (We generally answer all questions within 24 hours)